Zurich, Switzerland Travel Pictures
Zurich, the Little Big City, is the only place I'd consider large enough to be called a city in Switzerland. Large numbers of immigrants make for interesting restaurants, street scenes and entertainment. Younger people like going out, spawning numerous trendy bars and restaurants.
People are usually reserved, so don't expect bouts of exceptional friendliness here. Political forces have made Zurich open up since the mid eighties and during the summer months Zurich's festivals flow from one to the other week by week. The Street Parade, by now the largest techno festival in Europe (the world?) somehow mostly gets good weather year after year. Unfortunately exactly the opposite occurs for freestyle.ch, an amazing weekend of great inline, BMX and skateboard tricks and stunts in September. There are dozen of other events, ranging from the traditional, the ethnic, the gigantic and the trendy. The Züri-Fäscht, held every three years, and more so, the yearly Langstrassenfest qualify for gigantic eatery status, with food stall jostling food stall for customers.
The delights of Zurich, of which there are numerous, are found in the details, rather than in the large or spectacular. That said, Zurich does offer some world-class attractions, such as the art museum Kunsthaus, the Streetparade and perhaps the Opera. Zurich is small enough to explore on foot, from the nice lakeside, to the old town, the museums and the shopping area (your wallet won't like it). A walking tour through Zurich will take you a day or two to complete, depending how thorough you are, and some of the other sights might take another few days to visit.
Fountain head along Lake Zürich (opposite the Converium building)
The beginning of year has been celebrated by magnificent fireworks over lake Zurich in recent years
Zurich waking up to a wintry, snowy morning
Christmas blows whiffs of dazzling wonderland onto Bahnhofstrasse
Frog basks in the sun on a water-lily in the botanical gardens
Sunset over the church of Enge and the Üetliberg with it's tower and hotel-restaurant in the distance
Idyllic scene in in small vineyard in Enge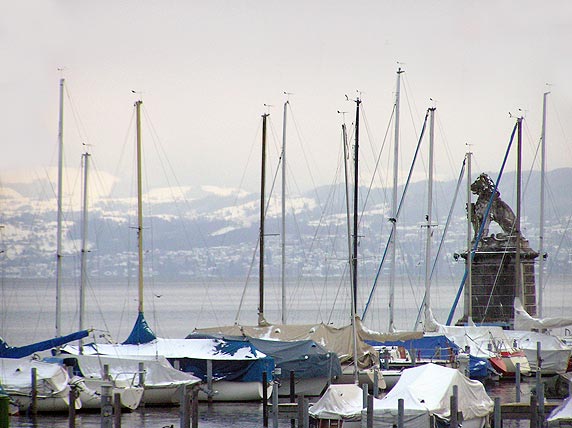 Wintry Lake Zurich, Mythenquai
Dusk Jet Streams over the Üetliberg
| | |
| --- | --- |
| | |
| Small part of Marc Chagall's stained glass windows in the Fraumunster Church | The Fraumünster and the Limmat |
| | |
| Lenin lived in this house during his stay in Zurich | Entrance to the Rathaus |
| | |
| Lake Zurich has a number of boats for tours of the lake. Off-season, a number of events are held on them while they're anchored, such as the ExpoVina, a wine fair. | Limmatschiff on Lake Zurich. These boats are flat enough to pass under the bridges of the Limmat river, which ends in the lake. |