Crete, Greece
Sunny Crete was true it's name when we traveled there. We ignored warnings not to visit Crete in August due to the crowds, heat, high prices and strong winds. It was hot indeed, but bearable. And cooling off in the sea made up for it.
Generic Greek Fridge Magnet
The food was great. The people were friendly and most everyone knew at least English (if not additional languages), so we could get by without using a word of Greek - shame on us.
We rented a car for the full 15 days and with the mostly good roads and defensive Greek drivers (we never saw a single accident scene), we were quite agile. They do have shrines along the road at spots where deaths have occurred, however, and there are quite a number of them.
Both the Northwest and the South had their definitive highlights and I was glad we did visit both. Most of the sights of Crete are in these two regions. The only disappointment was Knossos, perhaps in part because I was expecting too much after reading all the rave reviews. This trip was between 16-30 August 2005.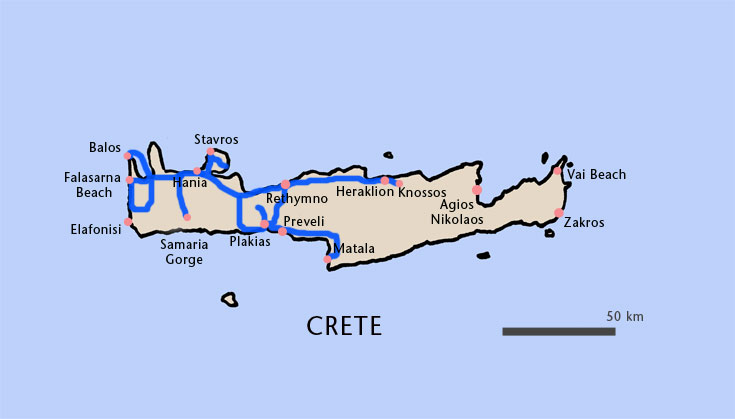 Map of our route through Crete (you can click on the map)
Trip Index
Part 1 (starting below)
16. August Heraklion, Rethymno, Stavros
17. August Stavros Beach, Hania
18. August Marathi Beach, Agias Triadas Monastery
Part 2
19. August Gramvousa, Balos Beach
20. August Hania
Part 3
21. August Falasarna Beach, Inland Trip 1
22. August Samaria Gorge, Inland Trip 2, Gouvernatou Monastery
Part 4
23. August Imbros Gorge, Plakias
24. August Plakias Beach, Preveli Monastery, Amoudi Beach
25. August Frangokastello Fort, Damnoni Beach
26. August Preveli Beach
Part 5
27. August Spili, Matala, Agia Pavlos Beach, Triopetra Beach
28. August Argyroupolis
Part 6
29. August Plakias Beach, Preveli Beach
30. August Rethymno, Knossos
Heraklion, Rethymno, Stavros (16. August 2005)
Rethymno Restaurant Interior
Rethymno Menu Display
Watermelon Fields in Stavros
It was tough getting up in the middle of the night to catch the flight to Heraklion departing at 7:15 in the morning. Luckily we were able to check in luggage the night before so we could shave something off the time we needed to be at the airport.
The flight took 2-1/2 hours and sunny and hot weather greeted us. Walking out of the terminal we spotted what we was looking for: lady holding a board with my name on it. The rental car was ours. The Hyundai Atos had 4 doors and a/c, and even though it felt more like a toy than a car, everything fit in, including the baby seat with Andres (my son of two) happily sucking his thumb inside. Sonja, the no-nonsense car-rental agent gave us some directions how to proceed to Stavros and how to return the car and then we were off (I can fully recommend the agency for car-rentals out of Heraklion http://www.carrentalcrete.gr)
We stayed on the highway and drove a bit more than an hour before deciding to stop and have lunch in Rethymno. Out came our Lonely Planet Guidebook of Crete and we decided on two restaurant candidates. We drove right into Rethymno and had quite a tough time determining where exactly we were on the map. Near the waterfront we took a right turn (eastwards) and were all the time looking out for a sign of one of the restaurants, but to no avail. Only when it seemed hopeless and we turned around, did we suddenly spot our goal: the Samaria restaurant.
We parked a few hundred meters further on by the side of the fort, overlooking the sea - a breathtaking panorama! The noonday sun was amazingly hot and got me squinting my eyes in the bright glare.
We had Souvlaki and Giros, which were ok but not excellent, accompanied by coke to cool off, which just caused me to sweat more.
After lunch we had a stroll in the alleys behind the waterfront and bought a road map by Leadercom, which turned out to be good, but did have a number of omissions.
Then on we drove towards Stavros, an uneventful journey until we reached it and we tried to find the lodging we'd booked. At every crossing were clusters of signposts to individual apartment and studio complexes, but not ours. After driving though town we found ourselves on the outskirts again. Backtracking to a fork in the road entering town, we tried the other branch of the road, to no avail. An enquiry an the main cafe in town led nowhere (the woman at the counter asked another person, who asked another and yet another. None had heard of Paradisio Apartments). I returned to the car and thinking about calling Costas from my mobile but remembered vaguely seeing a signpost with "Paradise something" before entering town, but certainly not "Paradisio Apartments" which is why I hadn't followed it. We decided to go back now.
It took some guesswork and further signs and finally we were there. A friendly guest spotted us when we arrived and took us straight to Christina, our host. She didn't speak too much English, but I pointed out my name on her list and she was all smiles and took me right away to view our apartment. It had 3 rooms, two of them bedrooms with double beds and a living/dining room with an equipped kitchen. Everything was nice and fresh, clean, and made a great impression. Outside was a large pool with a separate baby pool, and a number of kids were splashing in the water. Wow, cool! Review of Paradisio Apartments (highly recommended)
We made to unpack our luggage and then hit the pool. Andres loved the water! Later, we drove to the local In.Ka supermarket to tank up on supplies.
It was great to have dinner, put Andres in bed and sit on the veranda belonging to our apartment and talk and talk while sipping cold beer.
Stavros Beach, Hania (17. August)

Hania's Old Town Waterfront
Calamari drying on a Boat in Hania Harbour
Boat anchored in Hania Harbour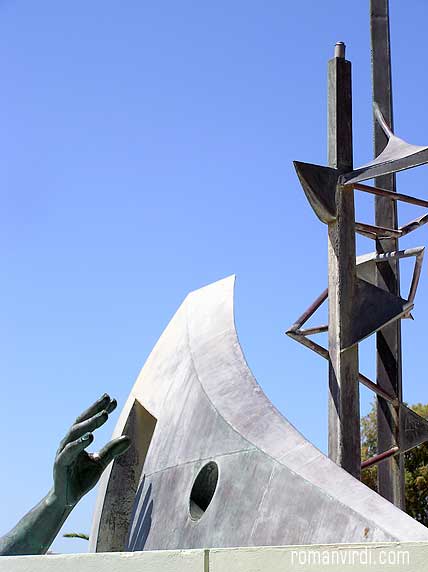 Monument of the Hand, Hania
Old Petrol Pump along with Vehicle in Old Quarter of Hania
Point-and-Order Menu in Hania
Ferry between the Lighthouse Restaurant and the Harbour, Hania
Christina said we could find beaches at Stavros (just nearby) and at Kalathas (on the road to Hania). Paul, a guest from the UK said there was Marathi Beach was nice, located after the Airport and Sternes. We decided to give Stavros beach a shot and were there in no time.
Christina had loaned us her sun-umbrella and we set up camp on the nice sand beach. Andres had his pants off in a jiffy and was in the water in a blink of the eye. The sand sloped gently in the water and there were hardly any waves. Judging by the number of kids there, it indeed suited them well.
Later, after having had our fill of beach life for the moment, we drove to Hania, the local capital. We'd selected the Monastiri Taverna by the waterfront to have lunch, and, having parked by the fort, had a nice stroll along the old Venetian harbour to reach it. A great atmosphere, even under the noonday sun. We had Souvalki and fish, which were ok, while Andres hated sitting down for anything for more than a moment and we had quite a time to follow him around on his wanderings in and out of the taverna.
Walking through the small alleys behind the harbour of Hania were wonderful - the old houses and quirky facades providing good camera fodder.
Back in our apartment we went for a swim and decided to wind down the day leisurely.
Marathi Beach, Agias Triadas Monastery (18. August)
Marathi Beach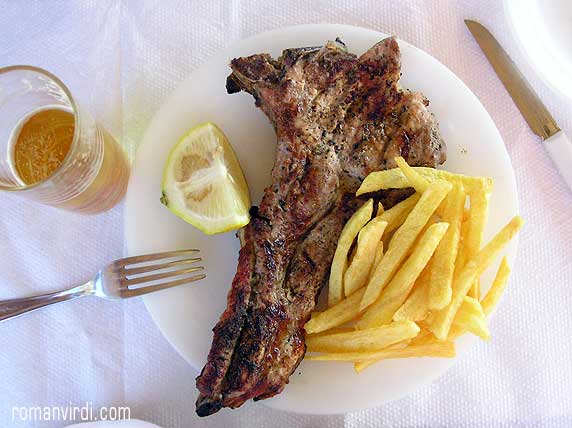 Simple but Yummy and Picturesque Meal at Marathi Beachfront Restaurant
Agias Triadas Monastery Entrance
Interior of Agias Triadas Monastery
Inside Agias Triadas Monastery
Inside Tranquil Agias Triadas Monastery
Agias Triadas Monastery Sculpture
With Marathi Beach on our plan for the morning (we were told not to go in the late afternoon or evening when it gets crowded), we set off towards Hania airport, then Sternes, and then guessed our way all smack down to the beach. "Marathi" wasn't signposted, so after asking a local we were told that Marathi beach was right in front of our noses.
The sun was out in full force again and I set up our loaned sun umbrella. The wind at times caused it to waver and almost fall, and frequent replanting was required to keep it erect. The beach was very nice, good fine sand, gentle slope and gentle waves.
We had lunch at one of the beachfront tavernas (basic but good) when Andres discovered the first cat which was to fire up his passion for the felines throughout our trip.
We returned to our apartment for a noon snooze and then set off to the Agias Triadas Monastery. You approach it on a long, straight road lined with high trees with it's front facade at the end of it, a beautiful sight. Entrance was free, photography was permitted and the inner courtyard had a marvelous, fascinating, peaceful atmosphere. We stayed there for more than an hour, relaxing, wandering about, looking, marveling!
By the time we left, we noticed that we didn't have the time for the second Monastery nearby, Gouvernetou. We'd have to come another time.