Chichicastenango, Panajachel
12. April (Thursday): Today we are to take the tour to ChiChi, a small village and site of one of the largest Mayan markets in Guatemala.
The mini-bus picked us up quite in time in the morning in front of the travel agent where we had booked our trip. We stopped at some other hotels in Panajachel to pick up some other tourists till we were practically full and then we were off to ChiChi. It lies at an altitude of about 2030m.
Market-time was only just beginning in Chichicastenango when we arrived. The stands were set up at a large square, which also featured two churches.
Guatemala has all sorts of nice souvenirs and I had to restrain my self not to indulge. A number of stands had their own specialties, which couldn't be found at any other stand. I bought a cloth embroidered with depictions of Maya daily life and Annewien got two small black velvet cushions with some opulent embroidery. Very nice!
I also bought a small Guatemalan bus-toy made out of pottery and painted with very bright colours. It was stacked with people, animals and baggage, with the engine's hood open and the driver bending in as if repairing it.
The LP advised us to 'bargain hard' and this we did, with prices dropping down below half the originally quoted amount.
ChiChi souvenir seller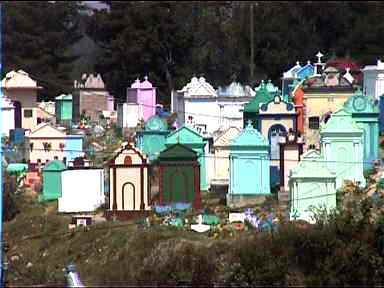 Colourful ChiChi cemetery unfortunately off limits because of armed robbers
We have a coffee at a cafñ and then discover a small colorful graveyard to be seen within walking distance at one end of the square, but LP warned about 'armed robbers' lurking behind the tombstones so we decided against visiting.
The churches were nice, being decorated for Semana Santa.
We have lunch at a first-floor restaurant recommended by LP and this seems to have done it a lot of good, since the 'credit cards accepted' sign was out. Food was so-so, but the tables overlooked the main square and offered a good view over the goings-on on the street.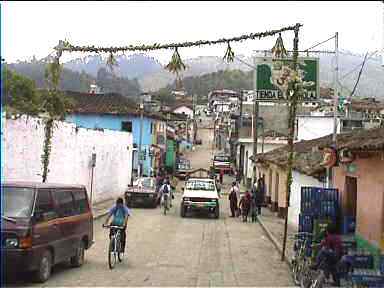 ChiChi street decoration due to Semana Santa
Bustling ChiChi church entrance
I see a stall stocking fake Rasta locks sticking out from under a cap in Jamaican colours and I have to try it on. It needs some convincing by Annewien that I don't buy it!
It has started to get warm in the noonday sun and after another coffee it seems that the market's slowly winding down it is getting time to catch our bus-ride back anyway.
Judging by their having small dark plastic bags with them, it seemed most everyone who had come on our bus had bought something. Some of the bags were quite full!
Colourful blankets
Religious figure souvenirs by the dozen
Back in Panajachel the streets had filled up, mostly with adolescent kids. It was Semana Santa and it seemed that they arrived in Panajachel from all over Guatemala to enjoy a weekend of drink and partying. I'd never seen that many kids at one place at the same time. There were 'offertas' selling one litre bottles of 'Gallo' beer everywhere, mostly 2 for some discounted price.
We once again sat down at our favourite cafñ at the main street and spent a lot of time watching the interesting sights go by.
A tattoo-maker had set up shop just outside of the cafñ and a large crowd was clustered around her, fascinatedly watching a girl who was just having one made. When it was done, her shoulder was bright red around the spot where the tattoo had been made and she seemed to be in a bit of pain. Another dude was contemplating having one made too, but eventually chickened out.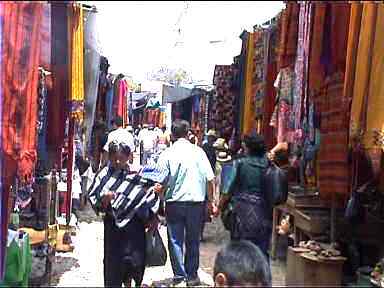 ChiChi souvenir stalls
Stairs to ChiChi church
Going back to our hotel we noticed that the whole place was in darkness. They had no electricity.
The gate was shut and was guarded by a watchman. I guess there are too many people in Panajachel now not to afford to have one. About three or four cars and pickups were parked in the garden in the hotel grounds just in front of the room, at least one having license plates of San Salvador. People sure came from afar to be here during party time!
Our watchman gave us a candle. In our hotel we wouldn't be having electricity for the whole night.
Hey, I've grown Rasta Locks!
ChiChi Semana Santa decoration just outside one of the churches
Panajachel itself had electricity although it went out thrice during the course of the evening, dropping the whole town instantly into jet-black darkness. Some restaurants did have an emergency light being turned on sometime later, but we reckoned that this would have been a great time for armed robbers to have had a profitable working day, picking up goods amidst the confusion!
Crowd watching guy (sitting) getting tattoo made in Panajachel
Panajachel dog sceptically watching Semana Santa madness on Calle Santander from a safe spot