Sailing trip, Livingston, River bathing
Sun just rising from the jungle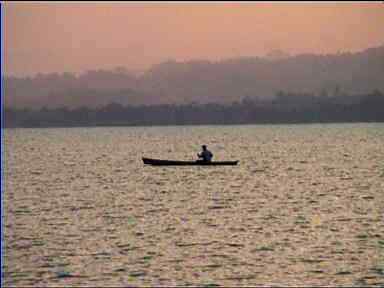 Early fisherman
15. April: This morning we are awakened by jungle sounds and howler monkeys. I am up at sunrise and the colours are amazing.
Annewien is feeling better. Great!
We have a morning plunge and after breakfast the boats starts on a long ride towards the Caribbean coast. It is partially through high, spectacular gorges and is a special experience. The nearer we get to the coast, the more we see brightly coloured houses on stilts on the shore.
House on stilts
"Sandwshes and beers for sale"
Eventually we reach Livingston and are once again transported to the shore by Cap with his dingy.
Livingston is hot and bright at noon. It has a Caribbean feel with many blacks and practically no Mayas. It's wooden houses are often painted in bright colours.
Livingston beach, not recommended to swim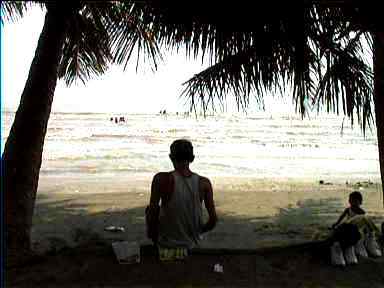 Livingston beach
We walk slowly through town to the coast and I extremely enjoy the experience of this totally new facet of Guatemala!
It is unfortunately not recommended to swim in the sea due to pollution, so we just slowly stroll along the sandy beachfront.
Coke is in Livingston!
And Swiss "Maggi" is here too!
It is a very idyllic place with local huts here and there. We spot some women doing their washing by a hand in a central washing shed. We have a refreshing coke at a local store and then head back to the spot where we would be picked up again.
Vertical white cliffs
Gorgeous Gorges
After lunch we sail up a river, where the captain unties some surfboards and put them into the water. We can climb onto them and he would tug one with his dingy. This made for a lot of fooling about.
He then he took us (some on the board, some in the dingy) where the river got narrower and it was possible to stand in the water (pebbles and some rocks). The fooling about continued. Especially the Argentinean guy was yelling loud whoops of delight (till he cut his foot on some sharp stones, after which he fell silent).
River scene
Extremely green jungle
We anchor near some small islands covered with jungle growth and stay there for the night. It is a marvelous setting.
The captain prepares his fishing tackle and goes to the backside of the boat to do some night fishing. He has company and small groups form, enjoying the last night on the boat.
We then leap into the darkness of the water again. The boat's hull hides it's lights, making the starry sky and the atmosphere is as special as ever!
We had found a sleeping bag belonging to the boat and Annewien sleeps in it on deck.