New York City
It was Deja Vu visiting New York for the first time in 1988. I felt as if I'd been there already due to having seen most of the sights so many times already, since the city's attractions are so widely publicized in magazines, films, TV and books. I flew from Zurich to New York by a Pan Am Jumbo Jet (the airline has since run out of business). The bus trip from JFK airport to downtown Manhattan offered beautiful preliminary views of the famous skyline. There is so much to see in the city that I would spend two weeks here next time. The subway is very efficient, although the network could be meshed more finely. The twin towers were of course still there at that time and their gigantic size and elegance was awesome. It was the first time I'd been in the USA and it was immediately apparent how much attention Americans paid to presenting their tourist sights. A marvelous, fascinating, overwhelming city!
The Liberty Statue. I liked the green liberty headgear souvenirs made out of foam rubber which many of the touring school kids were wearing. When visiting the statue, take the earliest boat from NYC to Liberty Island to beat the crowd
The former skyline viewed from Liberty Island
Looking south from the top of the Empire State Building. The twin towers were on the southern tip of Manhattan Island
The view down onto the Brooklyn Bridge from WTC 2. The rails you can see in the foreground were used by the window cleaning unit to run on
The Twin Towers of the World Trade Centre from below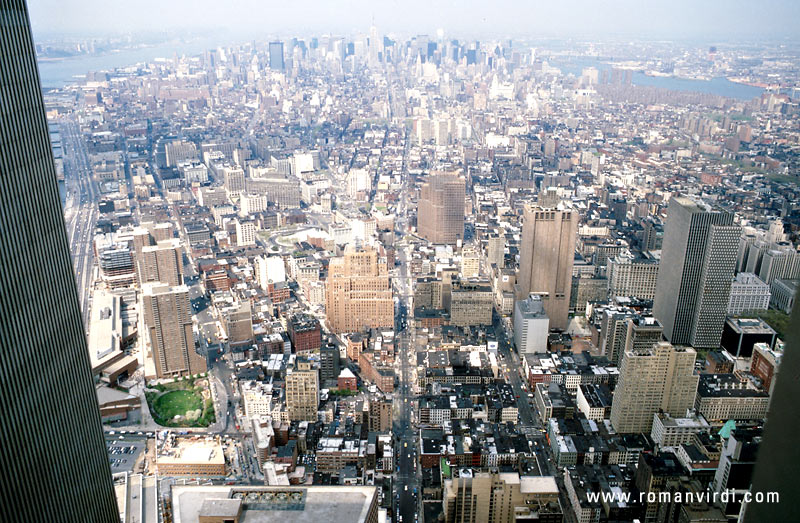 The view north to Manhattan from the covered viewing room on the 107th floor of WTC 2. The dark structure at left is WTC 1. The straight road in the middle of the picture is 5th Avenue. Far on the horizon you can barely see the Empire State
Look at the size of the antenna on the top of WTC 1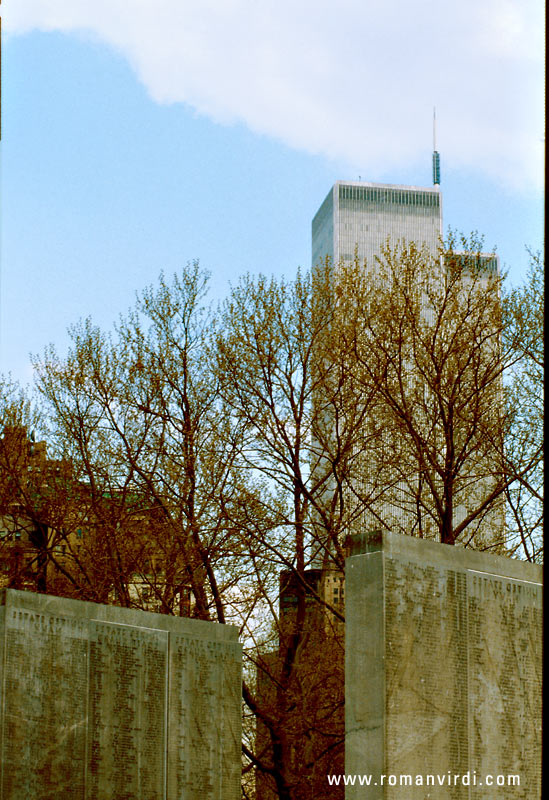 War Memorial in foreground and the twin towers of the WTC in background
The Brooklyn Bridge
The view from the Empire State Building in the evening, you can see its' shadow at the lower right of the picture. The Citibank Building with the wedge-like top is on the top skyline about 1/3 from the left edge of the picture, the Chrysler Building can be seen about 2/3 from the left.
What an entrance!
Symbolic Empire State
The Grand Central Station, seen on the lower part of the picture, had a great atmosphere inside. The pointy building on the right is the Chrysler Building, on the left the former Pan Am Building, now defunct
The stairs on the inside of the Statue of Liberty leading to the top viewing platform, where you can peer out of the lower portion of the crown
New York subway station, in 1988 a ride cost 1$. There is graffiti everywhere on some trains, although most were cleaned by the authorities
The inside of a New York subway. Graffiti here too
The subway station at Coney Island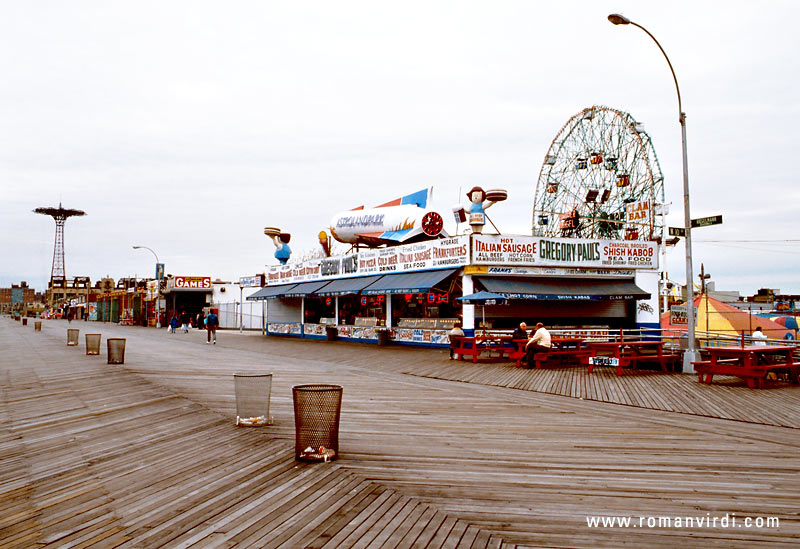 Coney Island. It was deserted this weekday morning
The Security Council inside the UN building
Times square by night
Wall street, the neo-Greek building is the New York Stock Exchange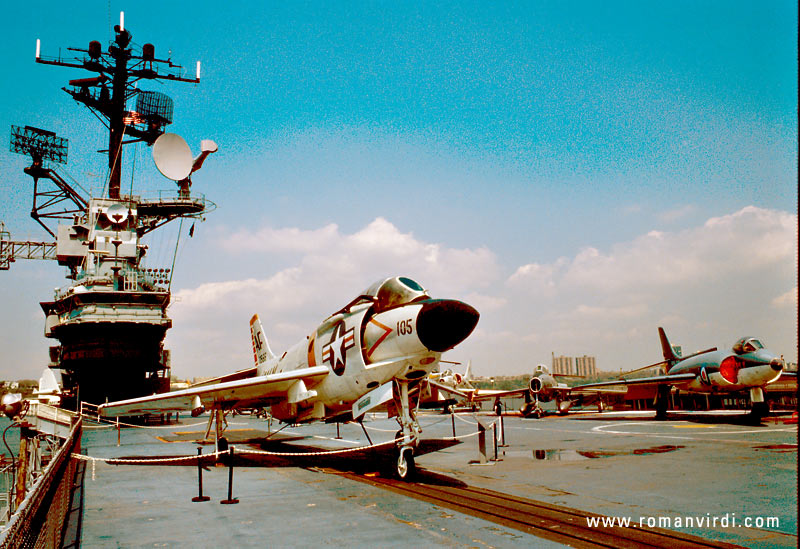 A decommissioned WWII Aircraft carrier, the USS Intrepid, has been turned into a floating museum on the Hudson River. Most everything on this ship used to be operated by steam, including the accelerators used to launch the aircraft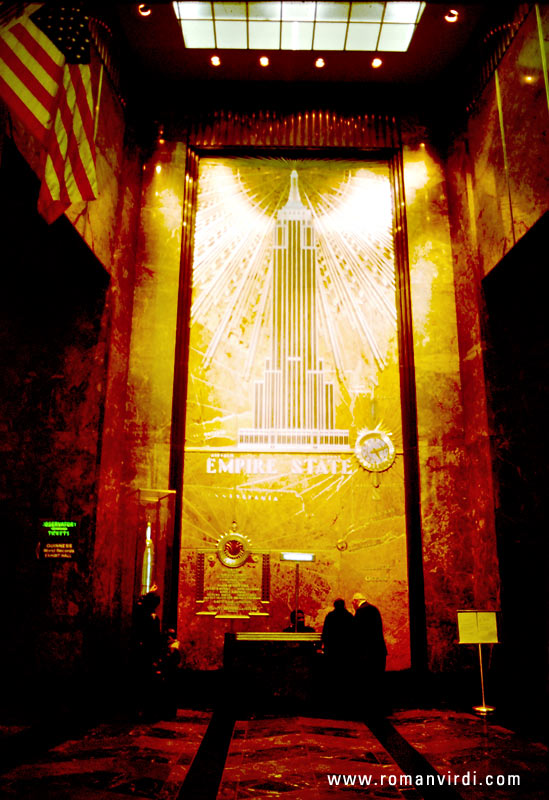 Wow, I was blown away by the elegance of the lobby of the Empire State Building. It's mostly made of Italian marble
The beautiful Art Deco Chrysler Building seen from the viewing platform of the Empire State
The original torch of the statue of liberty, illuminated internally, is in the museum on Liberty Island. The current torch is covered with gold leaf and needs no illumination
One of the most significant inventions of the 20th century, the transistor. A full size replica of the first transistor invented on 23.12.1947 can be seen in the AT&T museum